As recently reported by Law360, lawsuits alleging violations of the FCRA have more than doubled in the last decade as privacy and accuracy concerns grow over the credit reports and background checks companies increasingly rely on. FCRA claims have long been attractive to the plaintiffs' bar, due in large part to the potential for statutory, actual, and punitive damages; plus, the FCRA calls for defendants to cover lawsuit costs and attorney fees.  Further, a heightened expectation of privacy in recent years has caused these claims to soar.
Sessions, Fishman, Nathan & Israel
 

has been on the front lines defending the rise in litigation under the FCRA and other consumer protection statutes.  The study, compiled by Lex Machina and reported by Law360, details how SFNI handled the

 

second-largest number

 

of consumer protection cases filed between 2016 and 2018.
Per the study, SFNI represented debt collectors in 1,686 Fair Debt Collection Practices Act (FDCPA) cases alone.
The study looked at more than 132,000 consumer protection lawsuits filed in all federal district courts between 2009 and 2018. The report contains litigation information for cases filed under the FCRA, FDCPA, Truth in Lending Act (TILA), Telephone Consumer Protection Act (TCPA), and under the Federal Trade Commission and CFPB's authority to police unfair and deceptive trade practices, or UDTPs.
The number of FCRA cases filed is shocking and many of the recently filed FCRA cases have focused on background checks that employers allegedly misused during recruitment efforts.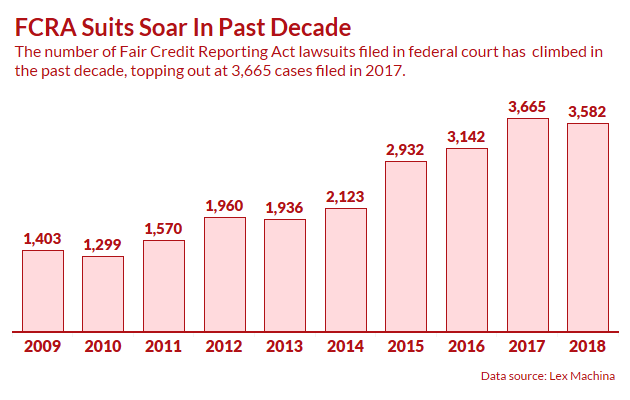 Need assistance with consumer defense or background check compliance issues?
Don't worry - we're here to help!
►

Back to News & Resources